SUNDAY, NOVEMBER 9TH
ISRAELI FOLK DANCE WORKSHOP & MINI-MARATHON
​featuring​ ​Ruthy Pardess, one of Israel's most accomplished dance leaders:
-Director and senior educator at the Ulpan L'madrichim L'rikuday Am (School for Folk Dance Leaders) in Tel Aviv for over 25 years.
-Responsible for educating and certifying more than a generation of folk dance leaders and choreographers,
including Moti Alfassi z"l, Gadi Bitton, Yaron Carmel, Meir Shem-Tov, Eli Ronen, Amnon Shauli and many others.
  – Worked with the Yemenite, Kurdish and Moroccan communities and became an expert in ethnic dance.
This work led to her developing dance therapeutic models based on ethnic folklore rituals, including the Yemenite henna ceremony.

–Continues to teach at Israel's largest dance festival held in Karmiel, where she is responsible
for the workshop on reviving the older Israeli folk dances. 
Workshop starts at 5pm  followed by a party & mini-marathon at 7pm
Admission: $15 
Bridge for Dance, 2726 Broadway at 104 Street, New York City

For more information, contact Haim Kaufman:
Email:  rikudayam@gmail.com | Tel:  917-207-0093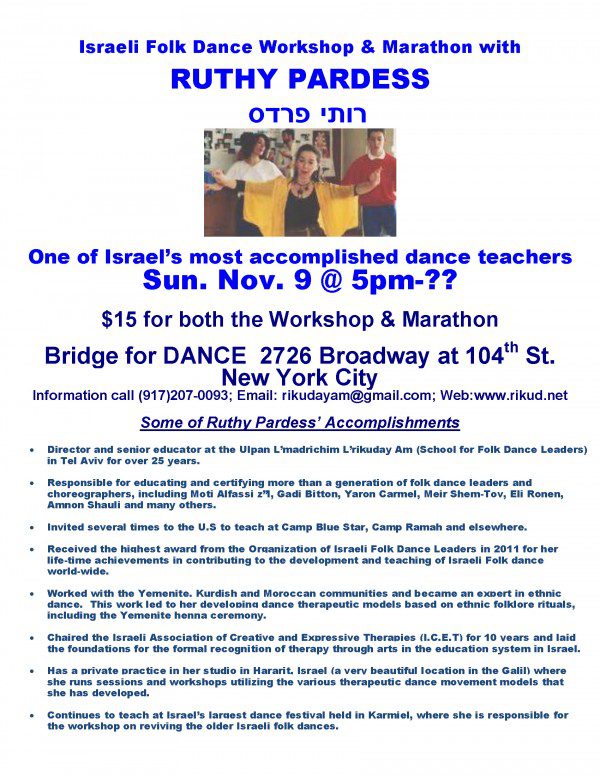 Comments
comments